Change of Appointment Ceremony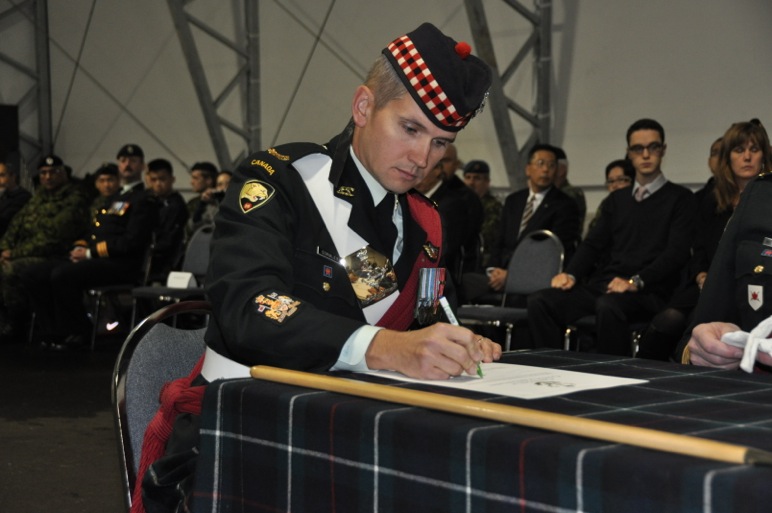 On 2 October 2013, the Seaforth Highlanders of Canada conducted a Regimental Sergeant Major (RSM) Change of Appointment ceremony between Chief Warrant Officer Pat Gormley and Chief Warrant Officer John O'Connor. The Seaforth Highlanders of Canada are 103 years old, and in that time have had 33 RSM's serve the Regiment, with CWO O'Connnor becoming the 34th.  The RSM is the Senior Non-Commissioned member in the unit, and serves as the principle advisor to the Commanding Officer in all issues related to the soldiers of the Battalion, and has a voice in most other matters. The RSM also forms a key part of the Unit Command Team.
The outgoing RSM, Chief Warrant Officer Pat Gormley has served the Seaforth Highlanders for twenty six years, joining the Battalion in 1987 as a Private following a number years as an Army Cadet. During his busy tenure as RSM, he oversaw the preparation and execution of the Regimental 100th Anniversary and change of colours, the layup of the old Regimental Colours, a changeof command from LCol Ursich to LCol Raesler and finally, the march of the Regiment to their temporary lines at the Jericho Garrison. Following the Change of Appointment, CWO Gormley will be applying for a commission as an officer in the Regiment in order to continue his valued service to Canada.
The incoming RSM, CWO John O'Connor, joined the Queen's Own Rifles as an infantryman in 1975.  He has served as an infantryman in and with a number of units before coming to the Seaforth Highlanders as a Warrant Officer in 1996.  Since joining the Seaforths, CWO O'Connor has had the privilege of participating in several key Regimental and Brigade events.  These include:  acting as NCO IC of the Lying In State of Sgt Smokey Smith,VC, in Ottawa in 2005; acting as the Team Manager for the 39 Brigade Bronze Medal winning Cambrian Patrol Team in 2007; and acting as the Colour Party Sergeant Major for the Change of Colours at the Seaforth 100th Anniversary celebration in 2010. Since 2012 he has served as the Quarter Master Senior Instructor of the Regiment.
The Soldiers of the Regiment have been extremely fortunate to have had an RSM of CWO Gormley's caliber, dedication and ability for the last four years and all ranks of the Regiment know that they will be equally well served by their new RSM, CWO O'Connor.
Cabar Feidh Gu Brath